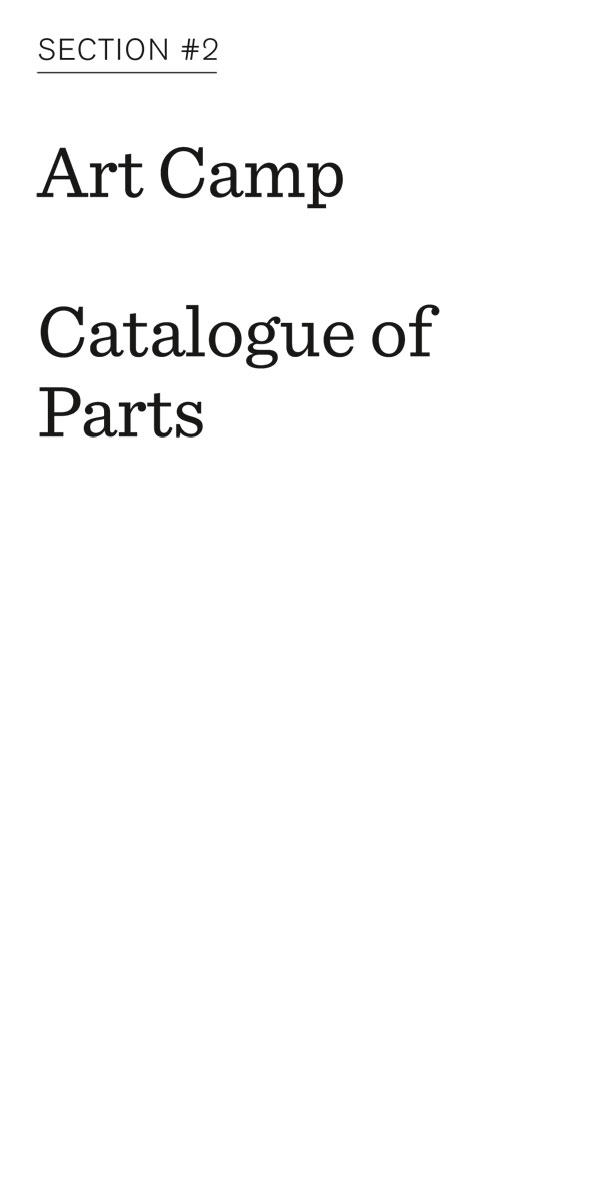 The sites
When a building or site is blighted by development potential it may stand empty for years, a period of time equal to an entire childhood. ​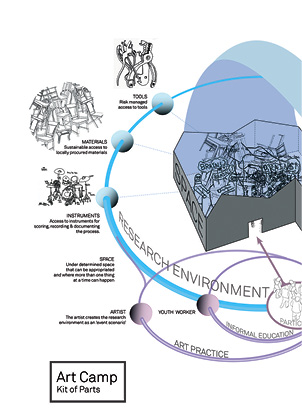 Art Camp is founded on a belief in use predicting use, where the temporary camp and its activities act a marker for future development.
The belief in use predicting use, of occupation as a kind of ownership, is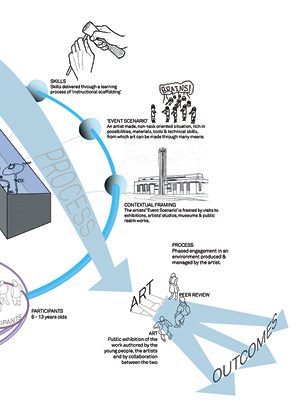 ​
blithely delusional when the use in question – exploring nascent creativity – has no market value; it is inevitable that the temporary appropriation of sites in this way will have minimal impact on subsequent development. The experience of appropriation for the user is significant, however, and lives on, carried in the children's memory as a template of possibilities, even after that actual place, with all its potential, is then lost to the city.
In this way Art Camp is a memento mori.
​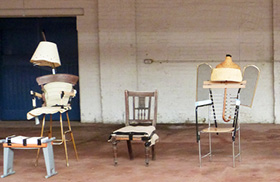 Art Camp 2011 August
The first Art Camp was located on an empty site in the Roman Road neighbour-hood adjacent to the A12 opposite Fish Island. muf identified the site in the urban realm master plan and proposed a pre-development use as a play park and site for green composting. The local housing asso-ciation owners dismissed the proposal as their development was imminent but gave permission for a month-long occupation by Art Camp.
Five years after that initial Art Camp the development is still 'imminent' while the site remains derelict and unused.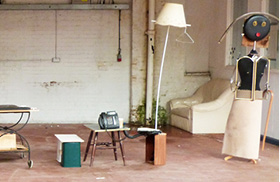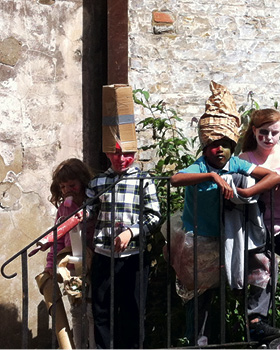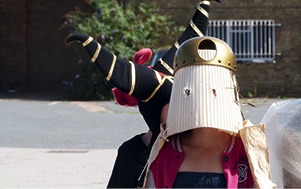 ​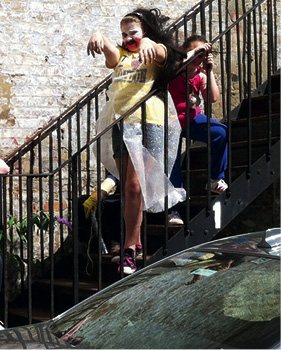 Event Scenario
A manifesto nailed to the gate, a portacabin, a handcart and a map of the neighbourhood. The camp began with a journey wheeling the handcart through Hackney Wick and Fish Island from business to business to collect their useful waste. These salvaged materials were taken back to the site for ad-hoc constructions. As well as muf and Mary George, the furniture designer Martino Gamper and artist Verity Keefe delivered Art Camp experiences. Martino assisted the children in the design and making of furniture, and Verity brought her mobile cinema.
The findings
1. Co-authoring in a child led environment is complex, challenging and requires continuity, commitment, space and time for reflection
2. Enabling creativity is not making art
3. The impact of appropriation and scavenging materials for making from business and studios in HW and FI had as profound an impact on Martin, the youth worker as on the children
4. One to one conversations between the child and artist were as valuable as one to one making
5. The portacabin was totally inadequate as a creative space
6. Space for large scale making to evolve over the duration of the project was essential
7. Attendance was voluntary and unpredictable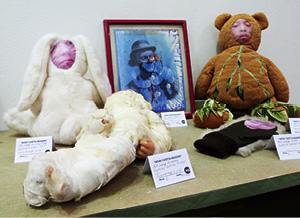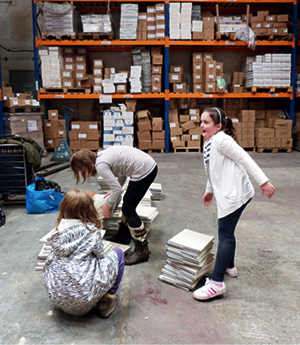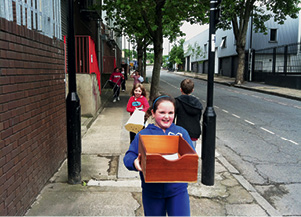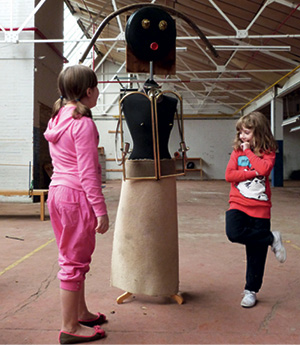 ​
Art Camp 2012
June–August–September
The second Art Camp was delivered on two sites, an empty warehouse on Wallis Road now demolished to create development plots and a new route to the station, and Central Books, then operating as a book distribution warehouse, now earmarked for residential development.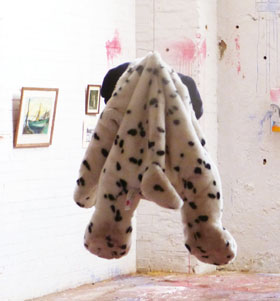 The art campers were children from Eastside Youth club, some of who came the preceding year.
The camp coincided with the HW&FI Open Studios as part of Open House where Art Camp had a presence and later in the year Art Camp artefacts were part of Grizedale Arts Now I Gotta Reason to Shop exhibition at the Jerwood Space on Union Street.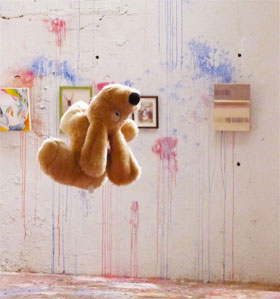 Event Scenario
How to begin' is where the event scenario took shape, taking the children to a place rich in possibilities and standing back, coming forward, standing back, constructing a context and then reflecting on that context. Splatter House was run by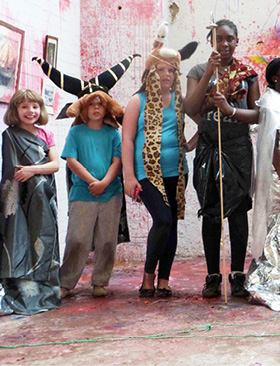 ​
muf with Andreas Land and Aldworth, James and Bond. The first rule of Splatter House was to take things apart, including preconcep-tions, and the second rule was to put things back in your own way, inspired by visit to galleries and other artists. The children scavenged the streets and local businesses of Hackney Wick
​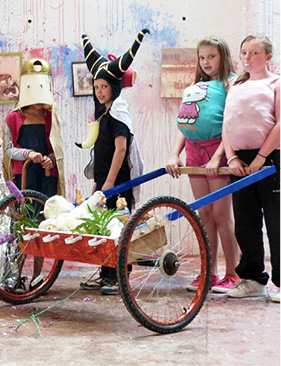 ​
and Old Ford for their found materials. In Foodo Café, run by Mary George, the process began with a musical jam using amplified toys to create horror-fuelled sound tracks, and ended with reflecting on things that are scary in everyday life. In Verity Keefe's Book Breaking Club 10,000 books earmarked for pulping were made
​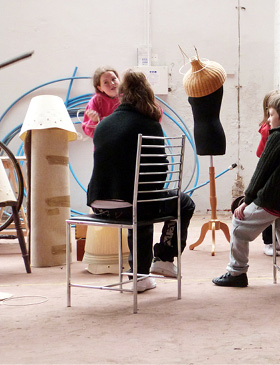 into huge three dimensional fanzines. The aim of the collaborative process was to make co-authored work. 10,000 books earmarked for pulping were made into a huge fanzine made from selected pages.
View Art Camp 2012 Film here.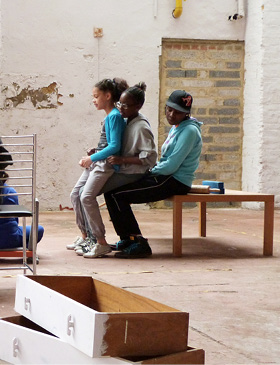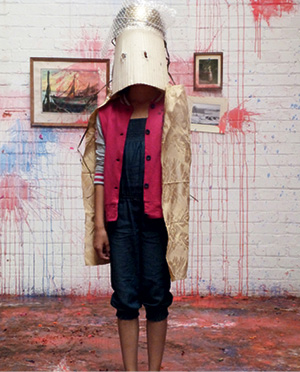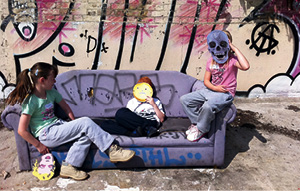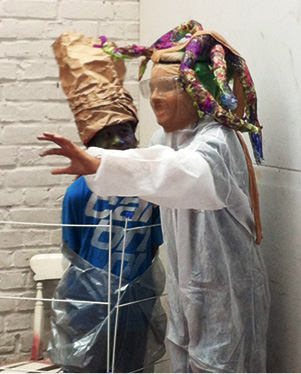 ​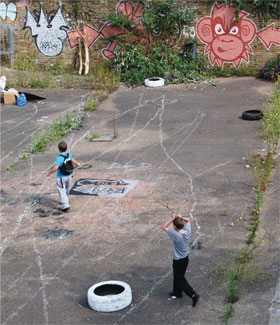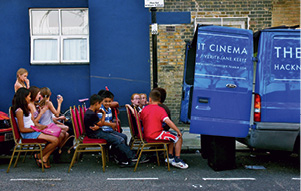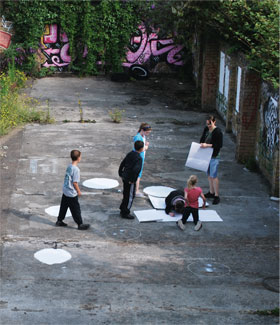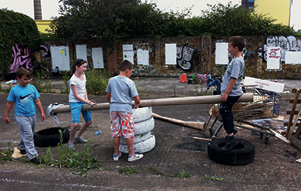 ​ ​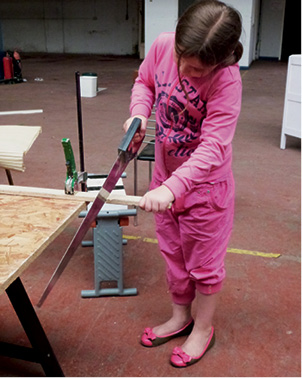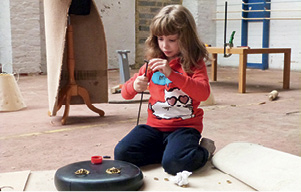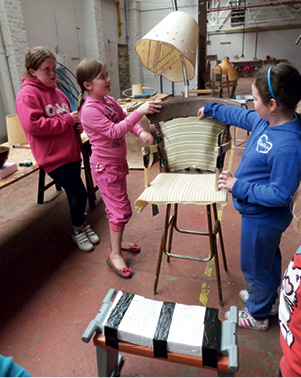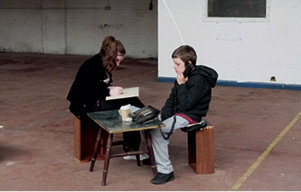 ​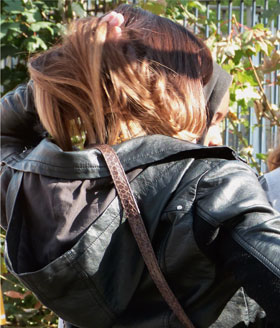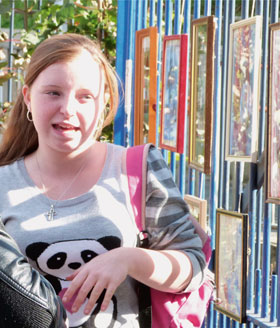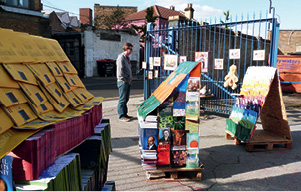 ​
Art Camp 2013 July – August
Art Camp 2013 base camp was St Clements, a disused psychiatric hospital in Mile End.
The hospital, a local landmark, had been empty and derelict for 15 years and was earmarked for commercial residential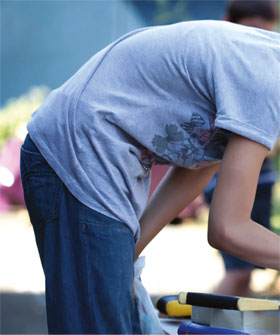 development, with a small part given over to the first London Community Land Trust. The Shuffle film festival was delivered in parallel with Art Camp 17.
The brief was refined by a second Dinner Debate where the concept of open ended scenarios as 'objects of affordance principle of prototyping uncertainty was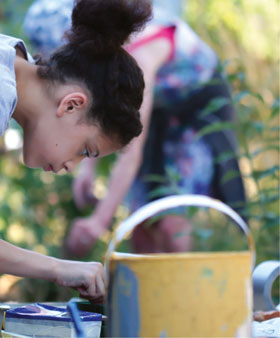 mooted. These ideas were further explored during 3 week-long sessions, led by muf with commissioned artists Juliet Haysom, Tom Woolner, and Bahbak Hashemi-Nezhad.
The Art Campers in 2013 were children from Eastside youth club and from Play Association Tower Hamlets aged between
​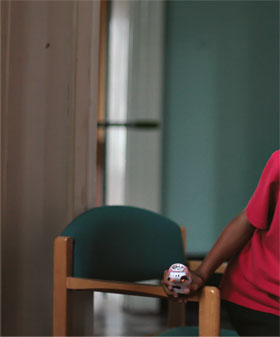 8 and 13 years old, and slightly older children and young people on the autistic spectrum from Phoenix School, which is almost opposite the derelict hospital.
​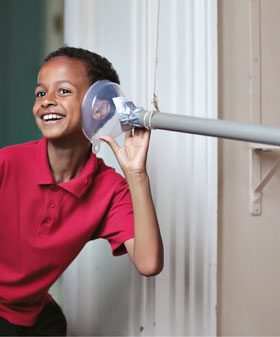 ​
Event Scenario
Each artist created a specific event scenario: Tom was based in the disused hospi-tal theatre and social club and made a rich process based offer of making in the form of a jam session, all framed by the proscenium arch of the actual stage and
​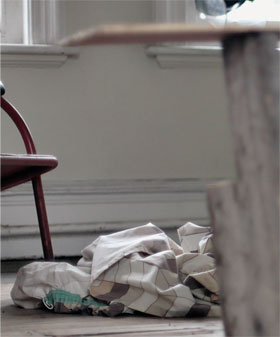 which culminated in an ad hoc promenade performance; Bahbak was based in the hospital gardens and delivered experiments in auto-documentation and adapted genres of play, dark hide and seek, as art production; Juliet delivered a drawing workshop in the ruined church opposite the hospital and muf was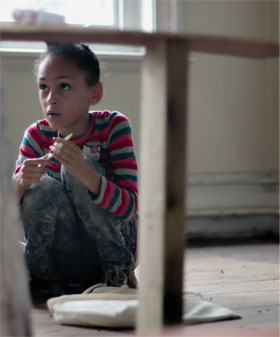 ​
based in the derelict hospital offices and the garden and constructed a series of tableaus appropriated as film sets by the children.
​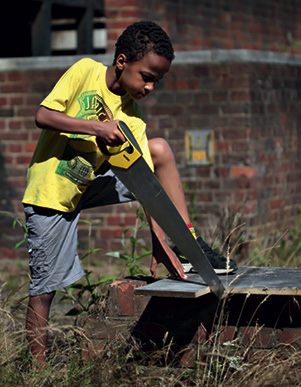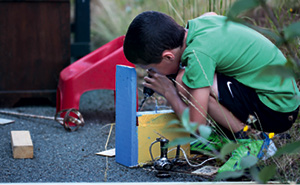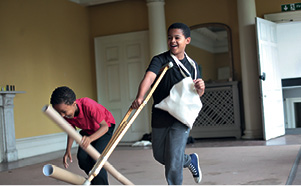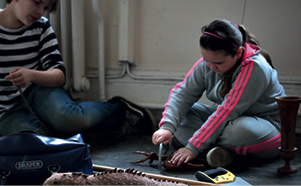 ​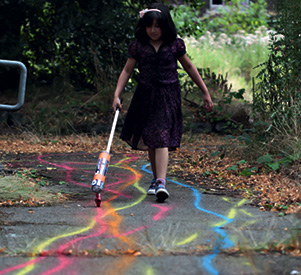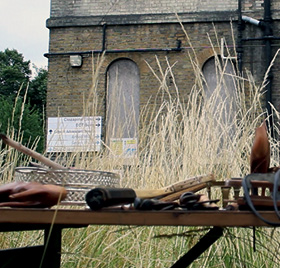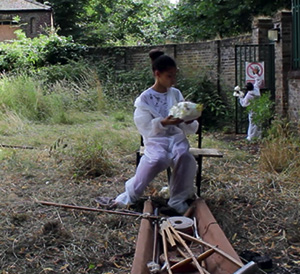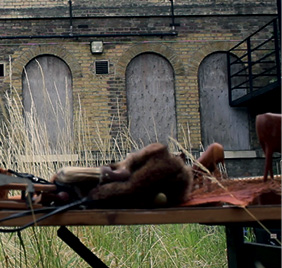 ​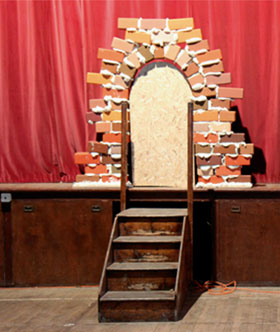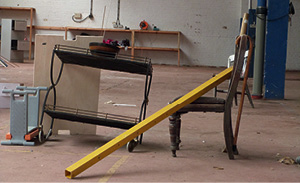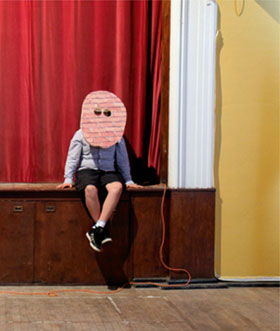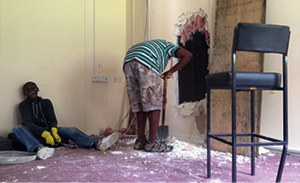 ​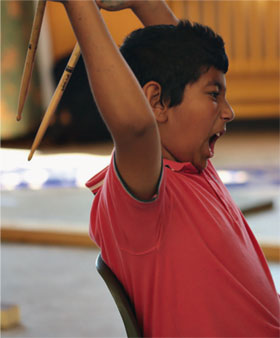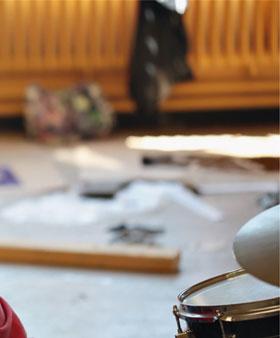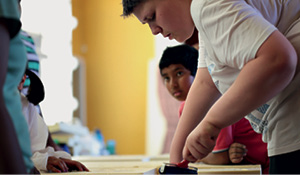 ​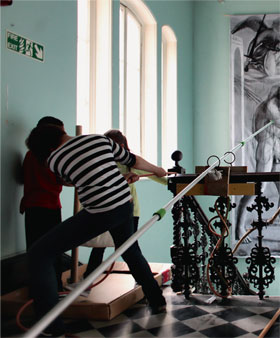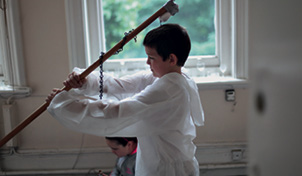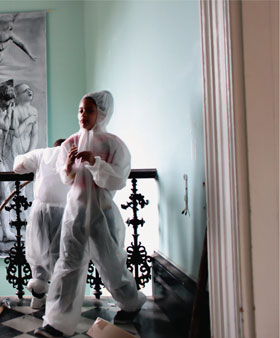 ​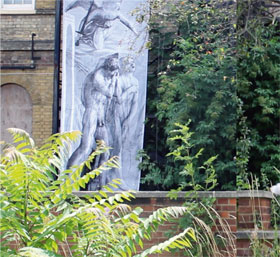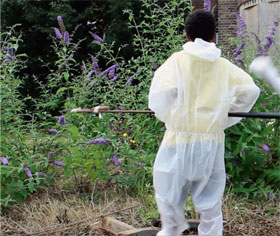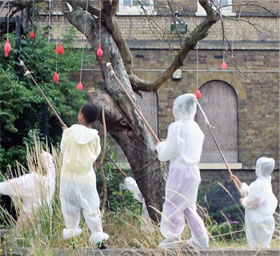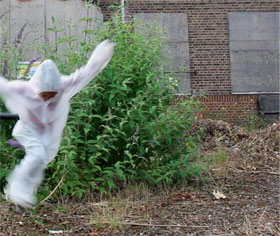 ​
Art Camp 2014 June
Art Camp 2014 was delivered with the support of Bow Arts Trust in the warehouse complex that also hosted the East London Painting prize.
Event Scenario
The concept of prototyping uncertainty was materialized through representations of pictorial space mapped onto a real space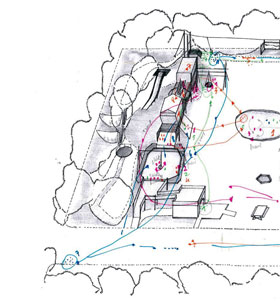 delivered as a 2-hour experience with a follow-up exhibition at the adventure playground and observational research.
The 'event scenario' was constructed as an overtly theatrical platform for the performance of the children, dressed in white boiler suits as conscious performers, first as gallery visitors and then as 'artists in residence', against a backdrop of depictions of early Renaissance painterly space, with the visitors to the East London Painting Prize as the audience. ​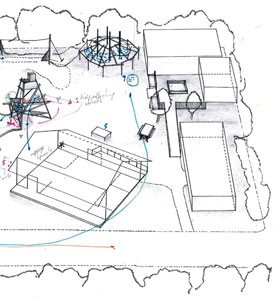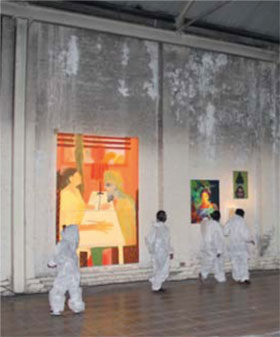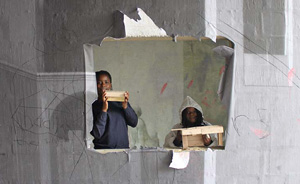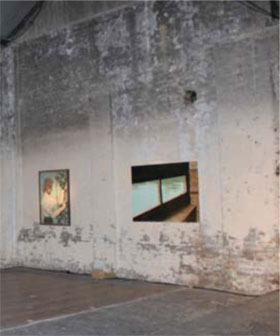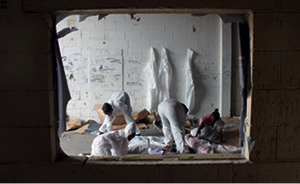 ​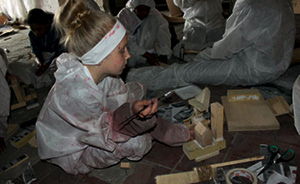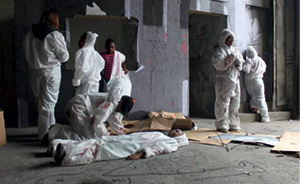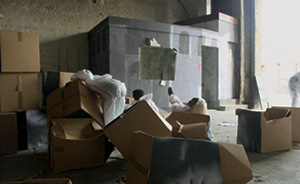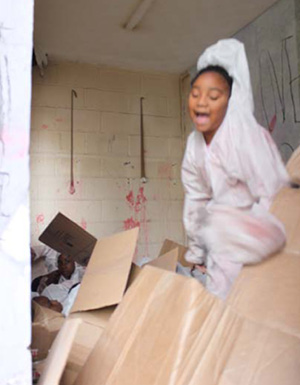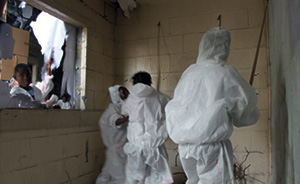 ​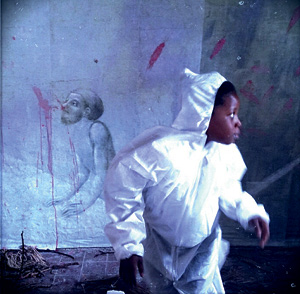 ​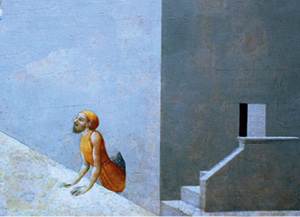 ​